Kevin Nolan insists that Declan Rice is worth more than £100m amid links with Manchester United!
The Hammers take on the Red Devils on Sunday in perhaps their biggest test of the season thus far.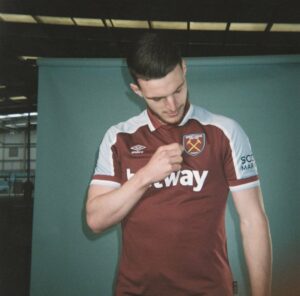 Both sides are, at this point, unbeaten in the Premier League.
And much of the reportage before the game has focused on the fact that Ole Gunnar Solskjaer wants to bring in a new number six to shield the back four.
Rice appears to be that player, with United seemingly setting their sights on a potential summer raid for the Irons star.
Nolan, though, who played for the Hammers with such distinction, insists that it would take plenty more than £100m to lure him away from the London Stadium in next year's transfer window.
Quoted by F365 after speaking on the Football Daily podcast, Nolan said: "When you're in the room with Declan Rice, you know you're in the room with Declan Rice, but he doesn't make you feel uneasy.
"He's one of those kids who wants to learn, wants to get better, always willing to take advice on, always willing to try and get better and want to get better.
"The biggest thing for me as a coach is he listens to me, he respects me for what I've done, but I feel that this lad can go on and I feel he's already done more than I have in terms of England appearances, being in Europe and things like that.
"He's going to keep going because [0f] his athleticism. He trains every day, he wants to train every day, he can hit it from one side of the pitch [to the other] with his right foot or his left foot.
"He can run with the ball, he's got everything that you could possibly wish for as a footballer and plus he's got a good footballing brain where he's now learning for West Ham, and he's done it with England, he's now learning how to control games.
"When you watch him play, he just seems in control of everything. For me, he's going to get better. Putting a price tag on him, I wouldn't sell him for £100m."
Rice will be out to prove just how difficult it will be for United to spirit him away on Sunday, with a match-winning performance against Solskjaer's side.