David Moyes admits that he is very excited to watch Declan Rice and Kalvin Phillips face off this weekend.
The two have forged an excellent understanding at international level.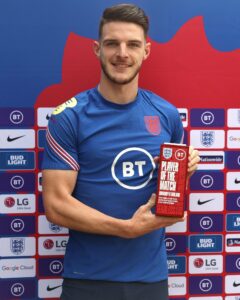 Thet created an axis under Gareth Southgate at Euro 2020, helping England reach the final of the competition, where they were beaten on penalties by Italy.
Phillips is a key man for Leeds and Rice, of course, has been Hammers captain in the absence of Mark Noble.
And Moyes is looking forward to seeing the pair face off when the two sides clash this weekend.
He told reporters: "I'm a big admirer of Kalvin Phillips and have been for a long time. Every time I went to watch Leeds, and when I was out of work and they won the Championship, I was always thinking he looked a really influential player and a real prospect.
"I think he has stepped up really quickly, I think he got into the England squad when maybe other people were suggested in front of him but I think he's done well. The partnership with Declan and Kalvin Phillips has been really good.
"They are both incredibly energetic, they are both improving players. Kalvin is 25, Declan's 22, I think you've got to say they are young midfield players and they have lots of room to get better because of their age. I'm sure as they mature and understand it better they will. I'm not sure if it's a direct battle between them with the way the teams match up but getting England players playing against each other there's always an attraction.
"They play in similar roles so that makes it attractive, seeing two young English players against each other on the same pitch."
Moyes believes that Rice can play as both a defensive midfielder and a more prolific goalscoring midfielder, as he looks to add more goals to his game.
He added: "I think that Declan can do both, I think Dec can sit and play in front of the back four and I think he's got the ability to join in and get further forward. I think he's got the ability to score more goals, we're just beginning to see that a bit from Dec now.
"We're beginning to see him getting a bit closer, a few more shots, he scored at Zagreb the other week as well so certainly signs of that and he's trying to try to take his game on again which is terrific to see. 
"But I'm a big admirer of Kalvin Phillips as well, he's a really good player as well, and probably can play higher and a bit deeper as well. It was Gareth's choice to do it that way and make Declan the one who played a little bit more in front of the back four."