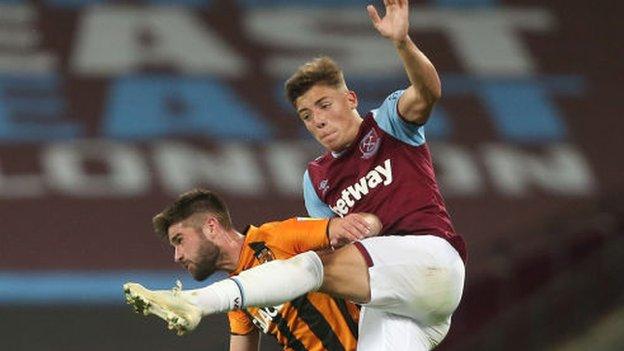 Under 23 defender Harrison Ashby has  looked a serious defesive prospect for the Irons whenever he has appeared in the first team.
Ok, that's not been very often thus far with a couple of EFL games to his name but it's easy to see a prospect and Ashby at right back has caught the eye on both occasions against Charlton and Hull City.
Thus far he has represented Scotland at under 21, 19 and 21 leve land plays with a confidence way beyond his 19 years.
He again looked in terrific form as the under 23s 2-1 friendly defeat to League Two outfit Crawley Town last night  during which Ashby was a real  threat charging forward from right-back, particularly in a dominant second half for the young Hammers.
The full-back constantly seemed to be making inroads down the right-hand side time and again, and was involved in Thierry Nevers' equalising goal early in the second half, book-ended by scruffy goals at either end of the game for Crawley Town.
He's a teenager I like very much and hope to see involved ayt some stage this season despite the presence of Vladi and ben Johnson.
Commenting after the game Harrison said; "Obviously it was a tough game against a really good side at a nice stadium. "For us, we're feeling fit and feeling good, so it was a tough test for us, but we're really at it at the minute.
"To be fair, all the coaching staff have pushed us in pre-season, and I think we're in a really good place with our running. I was told I'd have been high up in the Premier League last year in terms of my sprint distances tonight!
"As soon as you get the momentum in games like this, it's one of those where if you keep it, you're going to get a goal in the end. As soon as Thierry [Nevers] came on in the second half, fair play to him, he scored a goal, which is what we need in our team at the minute.
"With the amount of chances we had, if we can just fix up that final third bit, I think we could've scored four or five if we played like that again.
"We've got another game on Friday against Aldershot, so we'll just keep going. We're in a really good place at the moment. It's showing how hard we've worked, and I think we'll be ready for the start of the season."