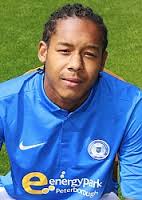 by Hugh Southon
Claretandhugh can today exclusively reveal that young striker Jaanai Gordon has signed what is believed to be a record longest ever West Ham contract  for a teenager – four and a half years!
And we have discovered that the deal was resurrected when Peterborough United director of football Barry Fry rang Hammers co-owner David Sullivan  pleading on behalf of he "heartbroken " kid.
Fry – speaking to Claretandhugh – said: "The original deal I thought we had broke down because, quite rightly, Sam Allardyce wanted to spend any cash on a striker for NOW rather than for the future.
"I pulled out as a result but the boy was heartbroken and I had him and his parents in my office giving me hell.
"In the end I had to go back to David Sullivan and my exact words were: "I'm in the shit here – we have to do something.
"Thankfully, both he and  Sam agreed and we got it done. It wasn't what I'd hoped for but I have backed my judgement and believe in the end this will be a great deal for both clubs.
"With the right training Jaanai will go all the way – I'm convinced he will be an England star and a huge West Ham player although he's not the finished article.
"But you are getting a very very good player – a seriously exciting prospect. He holds it up, spreads it to wings, turns, gets into the box and on the end of crosses in  to score."
Fry added: "He had three great weeks on trial at Upton Park and came home a changed boy.
"He's a hammer through and through now because of the way he was treated by the training ground staff and the players. They were brilliant to him – he loved it!
"He's going right to the top with you but I had to do some bloody begging and pleading. He's signed a four and a half year deal which I believe is the longest ever in Hammers history for a kid of his age."
PART TWO OF THIS GREAT EXCLUSIVE TOMORROW: JAANAI'S HEALTH ANGUISH!