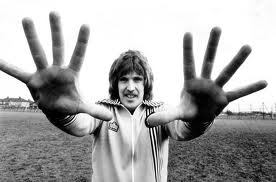 Legendary West Ham keeper Phil Parkes (right) is thrilled with the new stopper on the Boleyn block – Adrian – and believes his best is before him.
 'Parksey' – widely regarded as the finest keeper to ever wear the sweater for West Ham appeared in a total of 344 games for the Irons between 1979-90, precisely the same number as he managed for Queens Park Rangers in the previous 11 years.
He also had the biggest pair of hands most of us have ever seen and could advance of his line and catch crosses – some times one handed!!
 He became the ultimate goalkeeper for us and although Ludo Miklosko was another brilliant stopper, most with long memories would probably hand Phil the "greatest ever" accolade.
 The jovial West Ham hero was in great form as he gave ClaretandHugh an exclusive interview on the new young Spanish keeper and much else –  which will follow in later articles.
 He said: "I was impressed with him from Day One when he appeared in the Capital One Cup.
 "It was obvious to me early on that he had all the attributes and he has simply gone from strength to strength.
 "If I'm honest I'm surprised it took him as long as it did to break into the team but there's no budging him now – he can be our number one for many years to come."
 'Parksey' believes that his distribution, kicking and shot stopping are first class and that there's only one missing element he could add to his game.
 He said: "It"s not really a criticism because many keepers are the same these days but I wish he would come for crosses a little more because he can command the box.
 "Spanish keepers are taught to stay 'at home' a bit though so maybe that' the reason. It may be a bit heavily ingrained although I think as his confidence grows he will start to come.
 "Mind you, keepers have to be more careful these days because when I was around you could clatter the strikers on the edge of the six yards box but referees have tightened up on that."
 He added that he liked the way the 27 year old had forged a relationship with the fans and how he stays in the game by shouting at his defence quipping: "They never listen though do they?"
 He explained: "It's good to see him relating to the terraces. I always had a great relationship with out fans who love a bit of banter and all the rest of it – West Ham fans don't change down the years do they?.
 "Adrian  gives it all and that's the thing at Upton Park, do that and the fans will love you for it.
 "Adrian has a big personality and has managed it very quickly and I'm pleased for him and the supporters – it's great to see.
 "I loved every minute of my time at the club and I think the same will be true of this lad. He's only 27 and has his very best before him. I'm looking forward to seeing him develop and become better and better."
 Follow on Twitter @hughsouthon