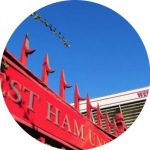 ExWHUemployee offers his view on the Declan Rice contract offer and what should happen next!
So it was on this very website (Claret and Hugh) that the full details of Declan Rice's contract offer were revealed alongside many other exclusives broken this week.
Whether the club should be sharing this information with trusted websites/newspapers is another debate for another time but with the information out there it gives us the discussion of whether our 19 year old Irish/English talent should accept the deal or not.
The offer is a basic wage of £21k a week plus bonus which could lead up to £40k a week and see his wage increase after a certain amount of games on a regular basis over the contract.
Compared to previous attempts at contract offers this on the face of it seems a decent deal especially when you consider that Rice is 19 and starting out in the game. Of course the majority of us couldn't dream of earning that much at such a young age-I was earning £15 a week as a double glazing salesman at the same age!
So the fact that Declan looks unlikely to sign the deal makes him on the face of it seem a greedy unappreciative player who we are best to get rid of-this couldn't be further from the truth.
I am under the impression that Rice would be prepared to accept £30k a week and sign a five year deal and in the ridiculous world of the Premier League football era-£30k isn't that much for a Premier League footballer.
Yes, it is a lot of money for a 19 year old but it isn't that much for an international Premier League footballer, which Declan is. Yes we would all play for West Ham for free because we love the club but even if we did make that offer we would have to have another career alongside it, a career is what Declan is trying to make for himself.
The headlines of him turning down £40k a week are wrong because as stated earlier it is based upon appearances and there are only 38 games in a league season and if he is to get injured that reduces that number too. If Declan was an academy player with limited first team experience and potential this deal would be phenomenal however he has done far more than that.
When Rice looks around the dressing room he will see players earning much more than he is asking for but who are contributing far less to the success of this team. Rice was runner up in the Hammer of the Year award last year and is surely an early contender for winning the main award this year.
His contributions so far cannot be overlooked yet even at a reasonable £30K a week they appear to be. Every one of us out there would feel aggrieved if we looked around our workplace and saw workers earning far more than us but contributing a lot less and us not being allowed the same because we are young.
I believe people are very ignorant to think Rice couldn't get more than £21k a week elsewhere. Whilst no club would have been able to formally approach Rice without West Ham knowing there is nothing stopping them having a private word with his agent and making their intentions known and let's be honest, it doesn't take a genius to realise that most clubs would want to sign him and why wouldn't they?
Declan Rice is a better player than McTominay at Manchester United and so by that alone they should be interested.
He also kept £100m Pogba quiet and also did the same against Chelsea's star studded team. They would be stupid to not be interested especially when clubs do not know the consequences of Brexit and quality home-grown talent could become even more valuable soon.
The bottom line is if these clubs or any other club did move for Declan they would be prepared to offer a lot more than £30k a week when Fredericks for example commanded £50k a week when he had never played in the Premier League before.
I believe that Rice is being punished for the mistakes made with Reece Oxford's deal who would be on less than £1k a week than Declan and it is unfair to compare the two because they are very different people and their contributions to West Ham are also very variant and certainly more than £1k a week contrasting.
The problem is the longer this drags out the more this plays into Declan's hands anyway as the club will start to panic and need to offer him more as it ticks by. What I don't understand is the likes of Payet, Ogbonna, Antonio and others have had contract offers given them to them well in excess of their original contract, why is Declan any less deserving.
Why are we haggling over £9k a week for someone who wants to stay, is our best academy graduate in many a year and someone who wants to play for us for many years to come and could be the future captain and lynch pin of our team?!
I hope that the West Ham board go in with a final offer of £30k a week (with less bonuses) and I think we can all celebrate that Declan Rice will be a West Ham player for many years to come.