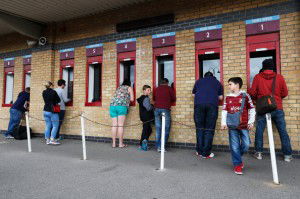 The official announcement for the dates and kick-off times for the FA Cup quarter-finals has been delayed until tomorrow it has been revealed this evening.  The FA sent an email to the club at 4pm to confirm the delay.
West Ham have been told the delay has got nothing to do with Manchester United's result in he Europa league tonight.  The dates and times will be released at the same time as the April TV picks which could also include some of West Ham's games.
However, sources close to the FA have suggested to Claret and Hugh tonight that the Manchester United v West Ham United sixth round match is likely to be played on Sunday 13th March with a 4pm kick off.
Adults will have to pay up to £55! Adult Season ticket holders will need to fork out between £37 and £47 for a ticket, members £40 to £50 and non members £45 to £55 for a ticket. Club coaches will cost between £35 and £40 per person.
The club confirmed that the Hammers have been allocated 9,000 away tickets for the Manchester United match in the FA Cup quarter-final. As we explained, Manchester United have a special dispensation with the FA limiting their allocation of Old Trafford to 9,000 (just 12% of their 76,000 capacity). It is the same number we took up north in 2001 when Paolo Di Canio scored the only goal while Barthez waited for a taxi and again in 2003 when we lost 6-0.