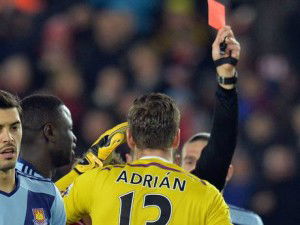 West Ham will today appear before a FA Regulatory Commission to challenge Adrian's one-match suspension following his sending off against Southampton.
Sam Allardyce was unhappy with the decision to send Adrian off saying "It was a foul on the goalkeeper before he handled the ball, Mane has his hands all over Adrian," said Allardyce. "He should have kicked it out but Mane had two hands on his back. We will appeal. I will be very disappointed if we don't get it rescinded."
Former Premier League referee Graham Poll says West Ham will win Adrian red card appeal if their case is based on it the fact that a goals coring opportunity wasn't involved.