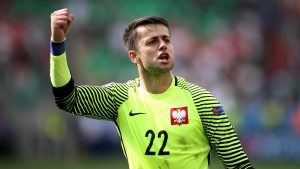 Lukasz Fabianski may be suffering a hang ovcr from last season but he sees the cure as being not very far away.
The former Swansea keeper suffered a relegation  of course but is now entirely focused on the Hammers as excitement builds among the fan base.
However, he has issued a warning to the fans that expecting too much too soon may not be the best plan.
He said: "Going down was not the ideal way for me to leave Swansea. It's not the best feeling to have, but the Premier League is the toughest competition and you have to be ready for almost anything.
"You can see there is quality in the group. Hopefully we'll get better and better with every single game and will be ready for the season.
"But you can't get carried away. There's a few new players here and we are getting used to playing with each other.
"You have to be prepared for all the different periods you're going to go through. "
He added:  "We will put in more work on the tactical side of the game and then try and just getting sharper and sharper.