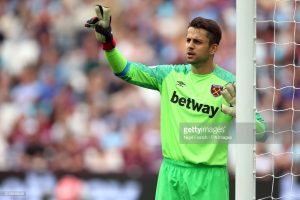 Once again consistency was the problem on Saturday at Bournemouth as the Hammers followed a fabulous victory over Arsenal with a less than average performance.
From dizzy heights to sheer mediocrity – that's the Irons too often this season although there was an excuse this weekend and it hardly needs mentioning.
There is little question that the absence of Arnie hurt because as has been mentioned many times Andy Carroll is nothing near being a like for like striker and was particularly poor at the Vitality.
However, despite that, hands need to be put in the air with an acceptance t that on this day a team which had been on a very poor run of results were better than us and the lack of chances we created was a testimony to that.
Lukasz Fabianski always gives a pretty accurate assessment of what went wrong and reckons the Cherries were value for their two goals which could have been more but for a couple of stupendous saves on his part.
Hard to disagree.
Speaking to www.whufc.com Fab said: "It's a completely different emotion from last week. We're really disappointed with the result and with the performance, as it could have been a lot better.
"We knew what to expect from Bournemouth because they are a team who always play with high intensity, especially at home, where they try to put you under a lot of pressure. 
"It was a game that when the first team scores, they usually win it .It was a quality strike and they caught us a bit on the break. We have to give them credit because they finished the chances that they had.
" Bournemouth worked their luck. It was a difficult ball for him to strike and the way he put it away was brilliant. We ended up losing 2-0, which I think was a fair result.
You have to stay consistent, especially mentally, because it's a very demanding league. "You can't dwell on things mentally.
"The main thing is to make smart conclusions and work out what we did wrong and what we did well and focus on the things we have to improve.
"There are still lots of games to play and we have to push and get as much as we can from them."