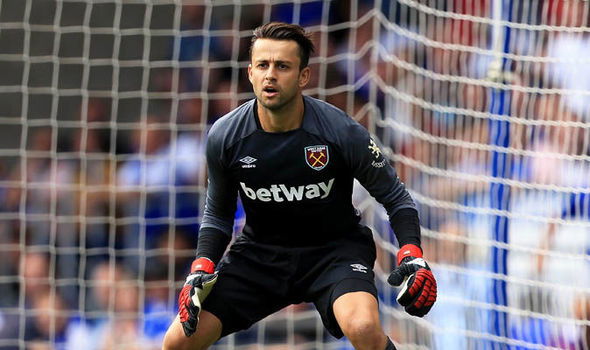 Lukasz Fabianski has never one to polish a defeat but reckons the Irons were particularly unlucky last night.
Given the number of chances we created and the manner of some of our misses it could hardly be otherwise.
Seb Haller scuffed one top chance when he came on, another effort from Michail Antonio hit the keeper's knee and of course he was off target with a couple of others.
It would be a harsh critic who rounded on the manager or anyone else in  such circumstances and it remains a match from which the irons certainly deserved a share of the spoils.
Now, however, dwelling will do no good whatsoever and it's on to Carrow Road where Norwich are in Last Chance Saloon and that may not be the easiest situation for the Hammers.
Fab believes we have a real opportunity in front of us and it will be interesting to see how the manager approaches a game which as near as it's possible falls into the must win category.
And Fab explained at https://www.whufc.com/news/articles/2020/july/09-july/lukasz-fabianski-we-have-see-norwich-great-opportunity : "We realise our situation and there is no point being negative and thinking today's game was just bad luck,"  "When you put all the things together, we were unlucky when it came to taking some of our chances today.
"There were some good moments, there were some bad moments, but we have to see Norwich as another great opportunity to get to a strong position in the table and further away from the bottom three, and that's what we'll try to do."
"All the players who were missing through injuries are slowing coming back – Seb Haller, Arthur Masuaku and Robert Snodgrass is not far away – so hopefully in this very important moment, when you are playing games every few days, it's good to have everyone fit and ready to go.
"Having Seb back, he is a proper striker and he can take a bit of pressure off Mikey because he's been putting a lot of effort into every game, which will help the team for sure."
"I think we're all disappointed with the result and in some ways with the performance. We all knew what was at stake and this game could have put us in a very strong position, but we lost the game so again we are back in a difficult situation. Everything is still up to us, but it could have been a little bit different.
"Obviously we had our chances and we didn't take them, which was one issue, and in some cases we were maybe a bit rushed with all our decisions.
"Maybe we could have been a bit more patient and creative around the box but, once we conceded, it was in our minds that we had to equalise really quick with something basic or simple and that didn't happen and that put us under more pressure going into the second half, and we went even more direct when we had time to stick to the game plan.