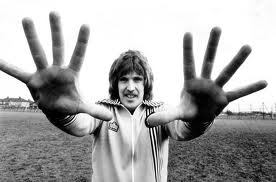 Luksaz's Fabianski's extraordinary form since arriving at since arriving at West Ham  two seasons back was a masterstroke at £7 million.
Hammer of the Year  during his first season at the club he has made an im[act greater than any in a long long time.
Hs amazing form also up opened a debate on  where he stood in the list of all time greats at West Ham.
We asked the question over the last couple of days and to be honest the result came as something of a shock as readers, in the main, went forhim as their  No 1.
Now, I know it's a very dodgy business disagreeing with fans but it seems strange that after a season and a bit that he should find himself in front of the mighty Phil Parkes who served this club for 11 years and played 344 games.
He was an FA Cup winner in 1980 after arriving for a world record fee of £565,000 a year earlier and was in my humble opinion perhaps the greatest keeper I have seen behind Gordon Banks and Peter Shilton despite him making only one appearance for his country in 1974.
He was the rock of that team which finished  in third place in the old division one back in 85-86 and commanded his area like nobody before or since.
Fabianski is a wonderful keeper, who is going to be right up there as one of our most memorable in years to come, but there will only ever be one Parkesky and he will always be No 1 for me and most who saw him, I'm sure.