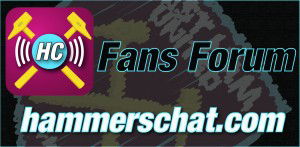 Our friends over at hammerschat have opened their spanking new fans forum which will be breaking new ground over the forthcoming weeks.
It has been entirely revamped, upgraded and improved – go visit it now at  http://hammerschat.com
Remember though that if you were a member on the old format you will need to register again as your old password will not work.
You can also access the forum directly but clicking the 'forum' link in our navigation menu at the top of the page.
The forum has been underway  for 18 months and in line with Claret & Hugh's exciting approach HC will bring you a combined service with all our friends including MTJApodcast, West Ham Till I Die, Blowing Bubbles magazine and of course the ever innovative and brilliant West Ham Social.
hammerschat.com forum prides itself on the relaxed attitude  of its moderators and honest opinions are VERY welcome whether to vent a bit of steam after a defeat or to celebrate a thumping win.
On top of all this there will be a further announcement over the next couple of  weeks regarding a revolutionary way of accessing all of your favourite West Ham sites….so watch this space.
We are in the business of pioneering totally new formats to serve our brilliantly loyal readers. YOU WON'T BE DISAPPOINTED – WE PROMISE YOU.
But for now pop over and join in the debate at hammerschat.com.