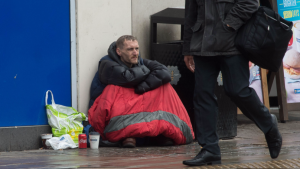 Dave Sullivan has blasted news that Manchester bomb hero Steve Jones is homeless again on the streets.
Publication LadBible.com claimed the Homeless Hero was back on the streets despite offers of help from West Ham Chairman David Sullivan and his son Dave Sullivan.
In response to the fake news, Dave Sullivan Junior tweeted "He is NOT homeless he is in a hotel (we are paying for this) and we are waiting on Steve to choose his accommodation"
Later Sullivan posted a video of himself on the phone to Steve saying "As I said earlier here is proof Steve is in a hotel and is signing a tenancy agreement tomorrow. As he says doesn't happen over night !"
Sullivan Junior later added "Going up to Manchester on Wednesday to sort Steves house and go shopping with him. Will keep everyone posted on situation"
David Sullivan and his son have promised to pay rent for a house for Steve to get him back on his feet.
As I said earlier here is proof Steve is in a hotel and is signing a tenancy agreement tomorrow. As he says doesn't happen over night ! RT pic.twitter.com/rGGfCPdHCh

— DAVE SULLIVAN JNR (@DaveSulley) June 12, 2017