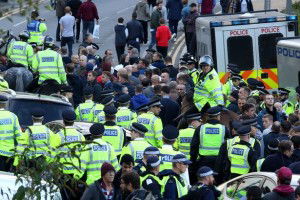 Wednesday evening brings the first real challenge of stewarding and policing outside the London Stadium.
Many of the stewarding and segregation issues have now been resolved within the stadium but some risks remain outside the stadium particularly post match as both sets of fans mix after they leave the area.
Stewards and security is the sole responsibility of the operators London Stadium 185 and on Saturday we saw a number of flashpoints just outside the Stadium on the concrete apron where the away fans are released and again at the away coach meeting point where fans cross paths yet again.
The geography outside the London Stadium is massive when compared to the Boleyn Ground when any trouble was easily contained and policed in the confined spaces around Green street. The Olympic Park and surrounding areas of Hackney Wick face a completely different challenge.
As a father I would like to warn other parents in taking the route to Pudding Mill Lane DLR station at present as many of the incidents seem to occur in and around this area.
Although the route to Stratford station is longer and more crowded it is often safer for families in my opinion. On Saturday my nine year old son and I witnessed the incident close to the away coaches and the Greenway. When we finally passed the trouble and got to Pudding Mill Lane DLR we found it was briefly closed because of overcrowding.