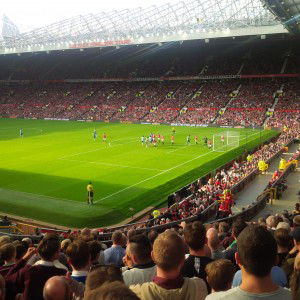 A Manchester United fan in the disabled area collapsed in front of the 2,452 West Ham away fans on Saturday after suffering a suspected heart attack at Old Trafford.
It is understood the man suffered a cardiac arrest around 15 minutes into the first half.
Shocked  West Ham fans including myself watched paramedics rush to give first aid and then give CPR at the scene for 10 minutes before being rushing him off to hospital. It is believed he was taken to Manchester Royal Infirmary for treatment.  His Daughter named the man as Carl explained he was there with his disabled son as a carer adding "he's in intensive care still very poorly"
One West Ham fan, who was sitting in the away end close to the man said: "The man was sitting in his seat and then he just fell forward hitting his face on the floor and didn't move. The paramedics came and tried to resuscitate him. After ten minutes of them trying he was lifted into a bed and wheeled away while the paramedics continued to give him CPR."
A spokesman for North West Ambulance Service said: "We were called at 3.15pm after reports a man suffering a cardiac arrest. "He was taken to hospital and was alive when he was taken from the stadium, however we cannot confirm his condition after leaving the care of the ambulance service."
West Ham fans showed their human side after applauding the amazing efforts of the paramedics at the ground as he was stretched out.