ClaretandHugh's northern correspondent Terry Robbins explains why he  – as a Manchester city fan for years – has deferred his season ticket for this season and explains why believes clubs are showing their fans the door!
By Terry Robbins
Less than a month ago, fans came together to kick the planned Super League into row Z, momentarily reminding those in charge, the game still belongs to the people.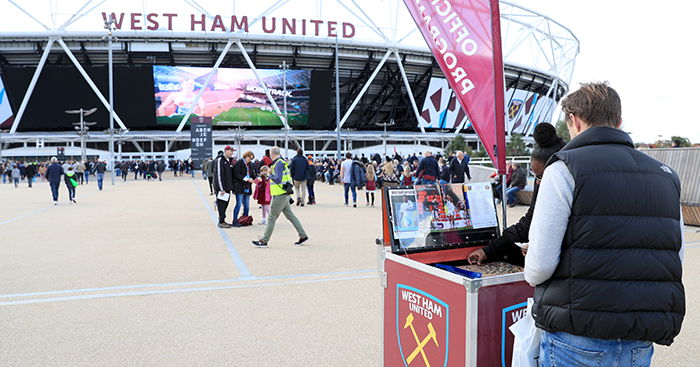 Fast forward a few weeks, however, and it appears some of England's biggest clubs are now all but showing us the fans where the door is!
The Irons, along with Arsenal, Liverpool and the two Manchester clubs are, under the flimsy excuse of the Covid pandemic, introducing a technological ultimatum which is sure to lay waste to generations of punters finally deciding they have had enough?
Let me declare as a Manchester City fan of four decades, it was bad enough seeing my club throw their lot in with the very teams who have spent the last decade conniving behind our backs to stop us joining the so-called elite.
I took some form of relief from the fact we were the first club to formally quit the closed-shop nonsense, collapsing it like a pack or cards from within.
But it is now clear 17 months without no fans in stadiums has led to Premier League boardrooms up and down the country deciding to test the loyalty of fanbases once again this summer.
The aforementioned clubs above have deemed it necessary to implement that access into their grounds next term will be via mobile phone only, courtesy of a QR Code.
There has been no shortage of scorn from City fans, many of them older punters contacting supporter services to state they have neither the smart phone or the technological confidence to comply.
All they want to do is use their existing smart cards at the turnstile scanner, without the added stress and understandable fear which now comes for some in a global pandemic world?
Others have complained they share their season ticket with family members and friends when they can't attend – so how can they pass on a QR code which is non-transferable from a Google or Apple Pay wallet?
Club responses have included, print at home tickets, but only by special request, which means you are  outta luck if you happen to also not have a laptop or printer!!
At this rate, fans will effectively be paying double for their season tickets – just to make sure they have the tech to enable them to get through the door in the first place…
Throw in the government planning to introduce proof of a double jab to gain entry from the start of September, and fans will need to start queueing at 10am on a match day for stewards to complete the necessary checks.
I know of plenty City fans who have chosen to take up the option to defer their season ticket until next summer – granting them another 12 months to see how Covid continues before losing their regular seat for good.
It was good of City to offer that in these  uncertain times, but the way things are going, many won't bother to return.
Poor TV scheduling, VAR, Covid, attendance ballots and now this. No wonder my old man, going to Maine Road and now the Etihad since 1960, told me he doesn't have the energy or inclination to get with the programme this summer if this is the way football is going.
Truth is, we all know our clubs want to monetize you as a customer and what better way to do it than have you all scanned in and spending via tech?
Nobody disputes the world is changing fast, but let's not forget huge swathes of people who have supported our clubs for decades, only to be now told they really  don't have a choice in the matter.
Get with it, or get lost.
Another not so super idea, eh?