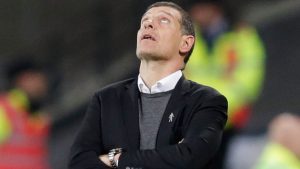 Now I know Slaven Bilic is paid masses to get it right – along of course with the players – but yesterday's CandH exercise in team selection showed just how tough life can get for managers – notably ours right now.
We threw out an invitation which allowed fans to select the side for today's game against Palace and among the hundreds  of responses we received there were probably only half a dozen the same.
Now, whilst many – probably most – have made their minds up about the manager's ultimate fate – sometimes we need perhaps to be a little more open minded ( I know I do) and accept that bossing a PL football team is one of the toughest jobs in the world.
Team selection is just one part of it and us armchair "bosses" found that seriously difficult yesterday with several even excluding  Michail Antonio.
So whatever team Bilic picks today, should it get beaten those who believe he should have done it differently will be all over him; should he win his critics will button it and should he draw the divisive debates will go on and on.
Is it understandable? YES! …is it helpful NO, particularly when it is being repeated for perhaps the tenth, twentieth or fiftieth time.
The performances have been poor but that stats show that we have won two, drawn two and lost two of our last six PL games which is hardly disastrous at this stage of the season
Yes Brighton was thoroughly horrible and let's all pray to God the lads  can put that right with a humdinger performance today.
Team selection is a seriously difficult affair as shown by our own efforts and whilst  people's opinions of the manager are unlikely to change, a a bit more tolerance, balance and little less over reaction from all of us may be helpful.
Oh, and for those who want to call me out and claim I'm saying I've changed my mind on Slav may I explain: I haven't.
I don't think he's the right man for the job but I would be utterly delighted for him to show me I'm wrong!