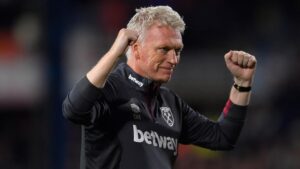 A huge majority of West Ham fans believe David Moyes needs to be offered a new deal at the club as he progresses through the final year of his contract this term.
Claret and Hugh contributor – under his Twitter profile Sean Whetstone @westhamfootball – has organised the poll which thus far has polled over 2000 votes.
It has been run on the anniversary of the manager's  return to the club and asks supporters if they want to see his contract increased.
The Hammers board always make their decisions on this issue at the end of the final year which will be next summer although should they decide to do so talks are set to start around Christmas.
The poll will close at around midnight on Tuesday and thus far 71.1% say West Ham should extend the contract  with 28.9% saying no.
Based on our start this season and winning the Conference no surprise here and we will need to wait a few more months to see if the result remains the same.