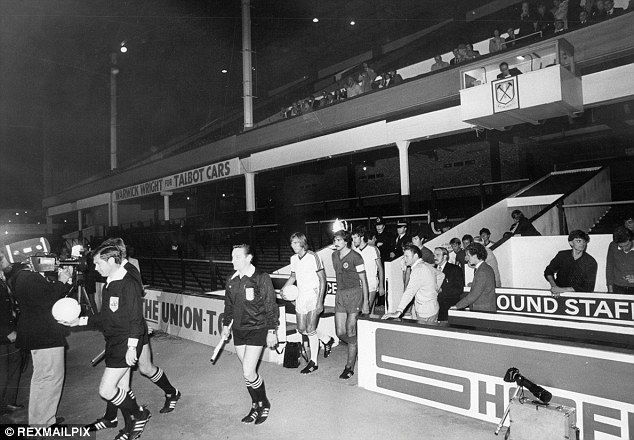 The Ghost Game October 1, 1980
Billy Bonds leads his team out onto the Boleyn pitch to probably the quietest reception any Hammers team ever received there.
The game was the 2nd leg of the first round of the European Cup Winners Cup and was played behind closed doors due to crowd trouble by West Ham fans, though there were witnesses to the game. The official attendance is 262, made up by club officials of both teams, some police and Journalists.
Originally UEFA imposed a fine of over seven thousand pounds and play next two UEFA home matches at least 187 miles away from East London, but the club appealed and UEFA changed the decision to one home game played behind closed doors.
West Ham ran out 5-1 winners with David Cross bagging a hat trick on the night, Geoff Pike started the rout and Paul Goddard scored the other.
Also noticeable is that West Ham are wearing their away kit which was a change from the away game where we wore our natural Claret and  Blue.
The club's DJ Bill Remfy can be clearly seen sitting in his booth above the tunnel and above him was the club officials of both teams in the directors area ,upper tier of the old West stand.
Words and pictures by Nigel Kahn with thanks
Follow on Twitter @mywhufc