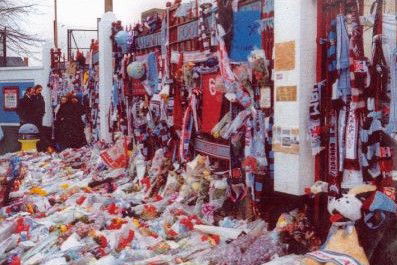 By Peter Ellis
Most poignant memory for me was in the most tragic of circumstances.
My dad and two elder brothers took me to a game versus Wolves.
Why would a game versus Wolverhampton's finest be stuck in the memory to this extent? Quite simply, it was not a football match. It was instead a memorial to the greatest player, the greatest captain, the greatest man, that West Ham and this footballing nation has ever produced.
This was the first home game after our hero, Bobby Moore, had tragically passed away.
The walk along the Barking Road was tinged in sadness; what you would expect when your (footballing) world has seemingly crashed around you?
However, it was complimented by people telling stories of the man himself during his playing days. "Do you remember that tackle on Pele"? "What about when he stopped George Best?" And obviously, "That ball to Hursty for the fourth goal….blimey!".
You would eavesdrop the stories of people walking alongside you, whom you've never met, and there would be a nod of agreement, of admiration, and of respect for the great man's achievements.
Hitting Green Street was something else. Getting to the John Lyall gates, and seeing nothing but a sea of tributes laid up opposite the famous old club shop. It seemed that every club on earth had sent a shirt or a scarf or a message.
Shirts that you would not recognise, some from Brazil, some from parts of the world you didn't know had a league, and of course representation of each and every English club.
It felt like it was single file from the gates to the turnstiles in the west stand. Everyone silent, taking it all in. Men that you could tell were a bit "handy", were sobbing.
My own dad welling up, something many of us would probably have only seen that day. The air was full of emotion. I have goosebumps writing this now it had such an effect on me.
We got to the upper tier of the west stand, and we were lucky enough to be a few rows behind the directors box.
We saw all the planned tributes, and the other 66 winners pay their respects, then almost out of the blue, a couple of wolves fans started walking on the pitch!
I don't remember any announcement about this, and the people around me all started asking what were they doing, almost as it if we're some invasion. A show of disrespect.
On the contrary, these Wolves fans went on the pitch to place their own tribute to Mooro, and they applauded all four stands while they did it.
Needless to say they got a standing ovation for everyone.
The minute's silence was so quiet you could almost hear your own heart beat.
West Ham won, I think it was 3-1, but that's not why we were there, that's not why anyone was there.
We were there for the greatest player we've ever had, and a gentleman of the game. We, and the rest of world football,  did him proud that day.
Nothing short of an honour and a privilege to have been there.
That's my greatest memory.