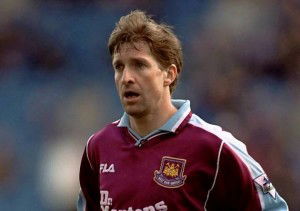 ClaretandHugh blogger John Moncur fears Carl Jenkinson could become an expensive luxury over the course of the season.
The Arsenal loanee has made an uncertain start to the new season which has some fearing he sent his twin brother to the Boleyn this term!
But Moncs has a more reasonable explanation declaring that young players finding their way in the game can see their game vary and confidence levels rise and fall.
And he said: "I'm a big fan of James Tomkins and can see him settling down into that right back spot if I'm entirely honest."
Moncs believes that as a rampaging wing back, Jenkinson's more defensive role with the arrival of Victor Moses on that side, is being tested and thus far believes Tomkins has looked more at home on that side.
He said: "We are going to have to wait and see but I think it's right to say that Slav is developing a defensve back line and a go for it midfield and front line. It's almost like two teams.
"Jenks may not get as many games as last year as a result and that could tun out to be costly because I believe the terms of his loan are pretty expensive. He could become an expensive luxury.
"We have to give him and everybody else there chance to adjust to a new way of playing but it's brilliant we have such strength in depth and so many alternatives. We are moving up."