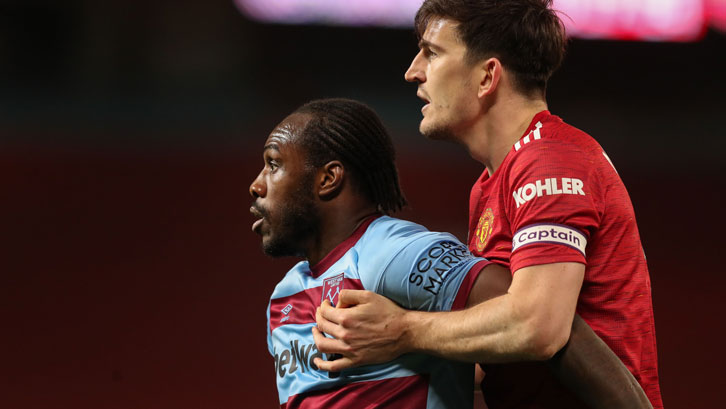 Disappointed Michail Antonio reckons the Hammers owe  Arsenal one this weekend.
Mikey was fed up with last night's game at Old Trafford believing that everything went United's way and came out of the game with mixed emotions.
Many believe the Irons paid the Reds far too much respect and didn't start playing until they were a goal down.
Others of us simply felt that we were too defensive from the start and should have played our normal attacking game.
But the No 30 – whilst giving a perceptive view of the defeat – is keen to put things straight against Arsenal who have beaten us after we have dominated the games.
It's a game that needs winning from that point of view and also because we remain desperate to stay in the chase for European places.
It's another London derby and as always bragging rights will always be important among the fans.
Speaking to West Ham TV Mikey said: "I think we owe them (Arsenal) something. Over the last couple of games that we've played them, we've played well and they've managed to nick it at the end, so hopefully this time we'll manage to get the three points."
And on last night's match against United he added: "People might say we gave them too much respect in the first half and once we opened up people will say we should have done it earlier 
But it's one of those things that if we did open up, they still had a couple of opportunities and hit the post and we could have been 2-0 down and it would have been an uphill battle.
"So, it's a difficult one because on the one hand you could say we showed them too much respect but on the other they could have taken the opportunities that they had.
"What we need to do is keep our concentration and keep pushing ourselves, keep working hard to get the wins and the three points and see where we finish and where we go."
"It was definitely a frustrating evening for us. I don't know what to say, really. It was one of those games where Manchester United turned up and they played well and had a couple of opportunities but to lose to a corner when we're so good at our set plays is disappointing.
"We keep going and keep pushing on and results have kind of gone our way, so all we can do is move onto the next game and make it right then."
I feel like things just didn't go our way tonight and that's why it's so frustrating because ricochets were falling for them and everything was kind of going their way, but we'll keep pushing on and on another day we could have got a result."