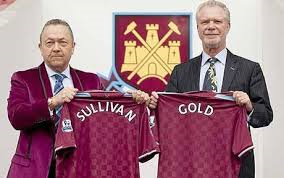 Five years ago to the day – David Gold and David Sullivan took over as owners of West Ham United and inherited a financial mess of epic proportions.
On their fifth anniversary they declare in an official website statement: "We inherited a club that was riddled with debt, had little or no expectation from the management team, lacked strategy on and off the pitch and had no idea what the future held for it.
"Avoiding relegation seemed to be the limit of the Club's ambitions and with no plan to expand the Boleyn Ground, there was little prospect of improvement."
In one of their lengthiest ever statements they cover their ten priorities at that time and the progress made whilst listing ten more for the future.
In this article ClaretandHugh associate editor Sean Whetstone looks at the central issue – finances – and gives his view on the pair's progress.
By Sean Whetstone
In 2010 following West Ham's takeover by the Davids, it was famously revealed by the new owners that the club was £100 million in debt
Sullivan explained at the time "We've paid down some of the debt and injected some working capital but there's still more than £100 million of debt, in that there is £50 million owed to banks and £40 million owed to other clubs.
"There's not a penny to come in, they (the previous owners) have borrowed against the next two years of season-ticket money.  The sponsors have paid 70 per cent of their three-years up front and in addition there's the club's settlement to (former manager) Alan Curbishley, so the real debt is about £110 million."
The non bank debt Sullivan spoke about involved Sheffield United who it was believed agreed £21m in an out of court settlement although Gold & Sullivan said  inherited around 75% it on takeover.
The Alan Curbishly settlement was believed to be £2.2m and the advance on season ticket sales were £7.7m the first year and £7.25m the second year. The SBOBET sponsorship was believed to be worth £1.2m per year much of which had also been advanced. It was a  massive financial mess by anyone's standards!
Financially the West Ham have come so far since those dark days.
In accounts released in December for September West Ham announced turnover grew to a record £115m with a record profit of £10.3m.
Match Day ticket sales have grown to £19.5m up from £16.9m five years ago, TV broadcast income has grown to £75.4m up from £38m, while Commercial activities such as sponsorship deals to £13.6m and retail sales to £6.3m. up from £4.1m five years ago
Gold and Sullivan have invested a total of £49.2m in shareholder loans.
West Ham repaid £11m of their bank loan to 10 per cent Icelandic shareholder CB Holdings ehf in  2013 and 2014, as part of strategy to be free of bank debt by the time we leave the Boleyn Ground.
Bank loans now total £41.7m. The bank loans were refinanced in 2013 and now due by the 31st December 2016. However it should be remembered that the banks are in fact the Icelandic CB Holdings Ehf and David Sullivan who are both shareholders so maybe shouldn't be considered as true third party debt.
Wage/Turnover is down to a record low of 55.6% which down from 62.6% the previous year and 90.2% of our year in the championship. This is a good indicator of financial sustainability in football.
So what does this all mean? The financial heath of the football club continues five years on mainly thanks to the continued personal support of the chairmen.