By Simon Leyland
After, lets face it, an uninspiring win at Larnaca last night all eyes are now fixed on our game with Aston Villa on Sunday.
Nine teams are currently separated by just six points at the bottom of the table, with West Ham just one point above Leeds United and Everton, two points above bottom club Bournemouth and four behind Crystal Palace in 12th.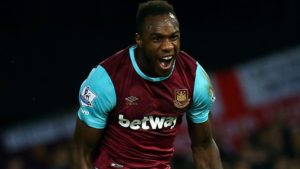 It's been this way for most of the season and it has often been the manager of defeats which has been equally worrying to the outcomes.
But last night's two goal hero Michail Antonio has said during an interview with the Footballers Football Podcast that there is now a confidence that West Ham will not be relegated this season, with the forward giving his verdict on the battle at the bottom and the Hammers' campaign so far.
He said: "We have never thought we will go down, during the whole course of this season, during the bad periods and we have never once thought we will be going down.
We definitely know that we are too good to go down. We are too good to go down, off the back of the last two seasons we have had, we have shown the quality that we have.
We haven't lost many players from that squad either, so we still have that quality that we have played with from the last two years, so it shows we have the quality to do better – and we will do better.
"At the end of the day, it is about getting to that 40 point mark. It is so tight down there, with teams winning and coming out [of the bottom three], then losing and going back into it. Everyone is trying to perform and do well, but we have got the quality to do it and we will do it.
"We have had that meeting, we are in a relegation scrap. It is not about being pretty or playing the best football, it is about getting the points on the board, no matter how you do it, you just have to get the points on the board.
That's where we are and we know we need to fight, we need to scrap. We have a few players who have been in the Premier League for a long time and we know what it takes."
Fighting words Micky, fighting words – but I seem to remember Trevor Sinclair saying something similar in 2003 and we all know what happened then.