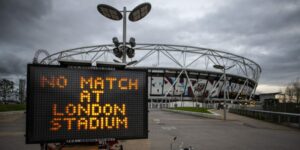 West Ham would be counting the financial cost of the season being declared null and void if the Premier League cannot be restarted.
Ticket revenue brings in about £1.5 per game for the Hammers so the loss of five games could cost them £7.5m.
The broadcasters would hold back on TV money with contracts factored per game for the Premier League.
The TV companies pay around £80m per game into the Premier League pool which is shared out. The remaining nine games could see a reduction of £720m withheld to the league. If the shortfall was shared equally amongst the twenty clubs this could cost each club £36m.
This means losses could reach £43.5m without factoring reduction in club store retail sales, the share of catering profit or any potential sponsor refunds.
West Ham will need to carry on paying their massive wage bill of £2.5m per week leaving a massive hole in their finances.
The Hammers would normally have season tickets on sale by this part of the season giving much-needed cash flow but no season tickets can go on sale until the end of the season now.