With Angelo Ogbonna's contract unlikely to be renewed at the end of the season it really is time to pay tribute to a player who has been as loyal as it gets to the club.
Despite finding himself out of favour for periods under Pellegrini he battled his way back and was part of the Hammers surge forward under Moyes.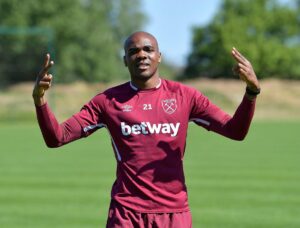 The injury against Liverpool at the London Stadium last November appears to have knocked him backwards and so far he has made just two Premier League appearances in claret and blue  this season at Premier League level.
Hopes remain the left sided central defender can recover the form that made him key to the Hammers progress as was responsible for instigating many attacks down the left side.
That has been lost during the present campaign and Aguerd at top form may be able to emulate the Italian's success on that side.
Were he able to do so not many would argue that the £30 million we paid for him had not been worth it.
But in the meantime one can only hope that Oggy can come back to his earlier form and defy the prediction above about a new contract.
The guy has been a real Hammers hero for the last seven season and 170 plus appearances.