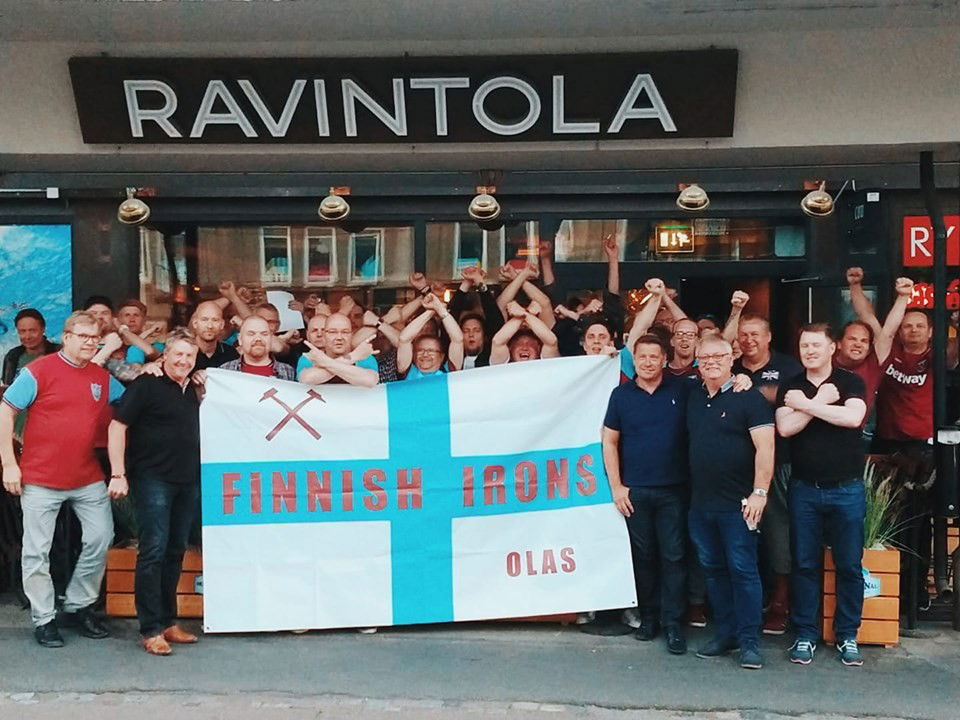 Frankie Mac and TC are pictured on a visit to the Finnish Hammers
Great to hear from the Finnish Hammers  who sent me a text this morning and who like the rest of us are battling their way through the present problems.
Chairman of the group Markku Kauppinen sent us a great cheer up message with a poem he had ordered from @Virtuaalinen runokioski and on Instagram by @taskulyyrikot.
We are happy to bring it to you here as a positive message of Hammers hope during some dark days (which will get brighter soon! 🙂
Let's do it! Hammers! Go!
We shout For fortune's always hiding
An empty pitch, no-one's about
Yet we will ne'er stop fighting —
In forty years there's ups and downs our claret shirts they fade
But we all know we will yet bounce
There'll be a next parade —–
From afar our chants they'll hear
Our team's here to make trouble The skies are clear and future's near
And I'm forever blowing bubbles
Markuu explained in his message that Finland is in a similar position to the UK currently saying: "We are doing fine because we are a small nation and a little bit apart from the ret of world.
Only 1518 infections  at this moment and we are in the fourth day running of infection numbers going down.
Thanks Markku and ClaretandHugh sends you our very both on our own behalf and  who follow us.