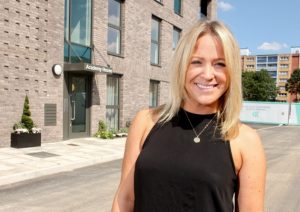 Catherine Cook has been living in Upton Gardens, the 842-housing development being built on the site of the old Boleyn Ground stadium, since July. The Leeds-raised professional, who is not a West Ham fan, says she loves her one-bedroom flat's layout as well as the local vibe.
Cook told the Newham Recorder "It wasn't an area I was familiar with but when I got here it felt quite residential. It has a really nice feel about it."
A project director for an advertising production agency, Catherine purchased her £350,000 Barratt London home in six-flat block, Academy House, through the Help to Buy scheme.
"I am just a single girl who works really hard and wanted to get on the property ladder and this scheme helps some people who may not be able to," she said.
With new neighbours living downstairs, the Newham resident now hopes to discover the area's parks and coffee shops.