By John Gallagher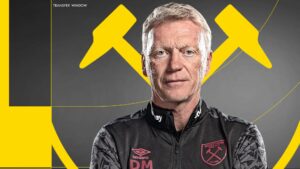 West Ham were of course one of the biggest surprises last season.
A team that finished 16th in the 2019-20 season, and some points fighting relegation, were in a Champions League spot for a portion of the season, and ended up in a very respectable 6th place. 
David Moyes has to be credited for what he has done for the club, a team that looked battered and bruised last season looked like a team that was having fun playing the game they loved, while being highly successful. Here is how David Moyes has turned West Ham right around. 
Everybody is hoping he stays!
Adapting 
Many teams had to adapt and make changes if the current COVID pandemic hit their squad, West Ham was one of those teams. Moyes, Issa Diop and Josh Cullen were all hit by the virus, and had to have extended periods away from the pitch. 
However, even in their manager's absence, West Ham stepped up to the plate and secured a 4-0 and a 3-0 win while their manager and players were at home. Not only did they adapt to the pandemic, but also a new style of play. 
In the previous season, West Ham looked weak, scared in some games, not wanting to concede and in the end conceding constantly. This past season they looked very different. They were strong, kept the ball, forced opponents to play at their speed and didn't give them a chance to breathe. 
Player Choice
The players that Moyes chose also played a vital role in their success. Declan Rice, Vladimir Coufal, Manuel Lanzini, Thomas Soucek, and Jesse Lingard all proved themselves to be world class players and vital components to the success of the team. 
Soucek and Coufal were immense, with Soucek showing himself to be a more than adequate goal scorer, and Coufal holding it down in the midfield. But easily, the biggest surprise of the season would have to be Jesse Lingard. 
A player who looked like he had missed his chance for glory rose from the ashes in the claret and blue. Scoring goals, assisting, making runs, he looked five years younger with a decade more experience all at the same time. 
A man forgotten at Manchester United has had his career revitalized under Moyes who gave him a role, direction and a purpose, and Lingard has taken full advantage of the chance. This is what Moyes has done for many in the team, but Lingard has to be the best example. 
Tactics 
As mentioned already, the biggest change is that West Ham just aren't scared anymore. They believe in themselves, they attack their opponents and every game they are in with full force from start to finish. 
The tactical change that Moyes has made has been more of a mentality one, West Ham believe in themselves, you can see it on the field. They trust each other, know what each teammate needs at any one time and they provide the pass or block that their team needs. 
They play a perfect combination of attacking and defensive football, and they hardly ever let their opponents pin them in their own half or box for extended periods of time. They have the talent to play like this, Moyes has just set them up to let each player shine. 
Setting the Bar High 
While they aren't considered a "Big 6" team, David Moyes hasn't let that stop him and West Ham from playing like one and trying to reach the same level as them. Where they finished this season is proof of that. 
West Ham finished above London rivals Arsenal and Tottenham Hotspur, something that most people would never have predicted at the start of the season. They went from bottom dwellers in 2019-20, to having a Europa League berth for the first time in ages. 
You can't even ignore the fact that not only did they finish 6th this past season, they only finished 2 points behind 4th place and Champions League winners Chelsea. This is a stark difference compared to their 16th place finish the season before. 
Future Plans 
David Moyes also has very high hopes for his team. He has proven they have the potential to challenge for a top 4 spot, and that they have most definitely improved their player acquisition process. 
They will be hoping to keep Jesse Lingard in their squad as well. They will also be incredibly excited to see what they can do now that the likes of Coufal, Soucek and the rest of the crew have had one of their best seasons of their careers, and are most definitely looking to get to the next level. West Ham have put themselves in a position to seriously shake up the classic "Big 6". 
David Moyes has seriously changed West Ham in the span of just one season. They have become top 6 contenders, they have a spot in Europe, and if they are able to stay fit and focussed, we could see West Ham challenging for a trophy or two.