By CandH follower Terry Hill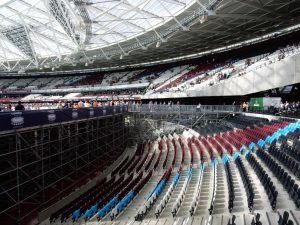 I'm one who feels that the current season can not restart until fans are allowed back into the stadiums as you lose the integrity of the competition.
How is it right that clubs have played other teams away from home and now will not have the home advantage in the reverse fixture. How is playing games at a neutral venue fair? Also how is it safe for players to mix with other players of both their own teams as well as the opposition.
I did hear that each team will have three changing rooms for their players for social distancing but it'll be okay to mark somebody closely from a corner for instance, now work that one out.
How the PL have only thought this through for two reasons as far as I'm concerned which is moneyand making sure Liverpool get the title,
I'm not saying they don't deserve it but you can bet your bottom dollar if we were in Liverpool's position the PL would have cancelled the season already and this isn't only my view but also the view of friends of mine who are supporters of teams like Arsenal, Chelsea & Man U to name just a few.
If social distancing is going to carry on for let's say the rest of this year at least then the PL should be working out how we can start next season and with the knowledge that fans probably won't be allowed into stadiums.
My answer to that would be that we play the same team in consecutive games as that way if the stadiums are reopened then nobody would have had home advantage with fans in the stadium. Seems to me the PL aren't thinking about this.
I readtoday is that UEFA has suggested allowing five substitutions per game. Howis this not losing the integrity of the game as the rules are being changed during the season so if you go one nil up with ten minutes to play you have the opportunity to bring on five defenders & as they say park the bus.
If the PL take this action I will seriously have to consider my position as to whether I want to invest a lot of money in following their competition. I will always support the Irons as have been since I was born over five decades but the PL ….Hmmm.
The views expressed here are solely those of the blogger and are not necessarily shared by ClaretandHugh