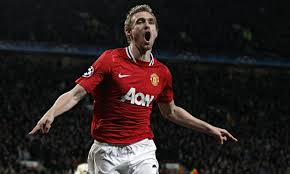 Thirty year old Darren Fletcher is one of the nation's bravest footballers. No doubt about that!
To have battled back from a serous medical condition and to be making such a terrific bid to resurrect his career is worthy of nothing but the highest praise and respect.
It's a very unpleasant condition and can be checked out here http://www.nhs.uk/conditions/ulcerative-colitis/Pages/Introduction.aspx
Here are the facts on the player:
O In December 2011, he began an extended break from football due to ulcertative colitis
O He made his return on 19 September 2012, but later underwent an operation to attempt to lessen the effects of the condition, ruling him out for the remainder of the 2012–13 season.
O He returned to the first team for the second time away to Aston Villa on 15 December 2013.
The 2009–10 season saw Fletcher consolidate his place in the heart of the United midfield, starting all of United's important games.
He made another 43 appearances in 2010/11;  eight Premier League in 2011/12; 12 in 13/14  and 11 thus far this season. These are appearances not starts.
There have been some very fierce arguments going on overnight since it became clear he was set to join West Ham should he get through a medical.
Both sides have strong cases although the pro-Fletcher lobby have to base theirs on a past record which have seen him perform well at the highest level. Nobody would doubt  his quality at his best.
The real question is that whether – through  no fault of his own – we are going to get the real deal or a guy who is set to be plagued with ongoing problems.
David Sullivan in fact made it clear last summer that there was a 'rule' in place which meant we would not be buying players of over 27 unless they were of the highest quality.
He was talking present tense not past and the truth is we just don't know where Fletcher's career is right now and whether he can get back to his best or somewhere close to it.
For a club in our position I would have thought we needed to be 100 per cent certain at the very least of a player's health and well being before agreeing any deal.
This one is reported to be worth between 60k – £70k over three and a half years. It's a big gamble and one that is hard to understand.
On balance – unless the medical comes out A1 – it's not a move that's easy to support.