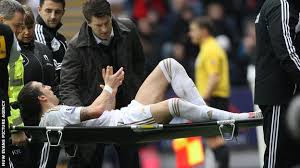 Chico Flores is currently in the process of whipping up a new storm of hatred from Irons supporters as he tweets a series of inflammatory comments about us.
The play-acting Swansea central defender – whose histrionics clearly helped get Andy Carroll sent off on Saturday – has issued a stream of insults against the club.
In a bizarre outburst in which he shows absolutely no remorse for his disgraceful behaviour he tweets: "I'm a bit tired of the strong insults from the West Ham fans. Whoever doesn't see the aggression in that act?"
The outburst is accompanied with a video clip of his clash with the striker which prompted ref Howard Webb to send him off.
Not content with that Flores then snarls: "They (the Hammers fans) should be more preoccupied with the ugly way their team play football: always making very long passes and never quick short passing."
And he ends by adding:  "They should be worried about that before caring about such evident things."