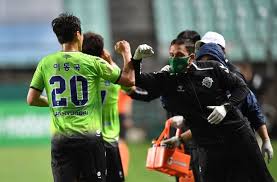 The South Korean K League kicked off on Friday as viewers around the world got an idea of what football will look like when it returns.
The stands were empty, bar a few officials and the South Korea manager – all wearing masks.
On the benches the subs wore masks – club branded ones in the case of Jeonbuk Motors – and so did most of the coaches and the fourth official.
On the pitch there were no masks but handshakes were banned (although players did bump fists at the end) and players were not allowed to spit or talk at close proximity to each other.
The atmosphere was surreal with silence for most of the game – apart from the players' shouting. There was the occasional spell of crowd noise piped into the stadium and the final whistle was met by deafening silence.
The game itself ended in a 1-0 win for champions Jeonbuk Motors over cup holders Suwon Bluewings. Substitute Lee Dong-gook, 41, scored the only goal with a header.