FOOTBALL IS BACK but it all looks so different to how we left it back in March.
And here we publish the excellent BBC website report in full as it gives every detail of what was on show in the Bundesliga today and how it's all likely to appear as a result should the Premier League return next month.
The German Bundesliga restarted on Saturday and gave a glimpse into what the Premier League and other top leagues may look like if they return.
South Korea's K League kicked off last weekend, while some smaller leagues such as Belarus and Nicaragua have never stopped – but this was the first elite football in over two months because of the coronavirus pandemic.
So what did football in May 2020 – played behind closed doors and with some social distancing – look like?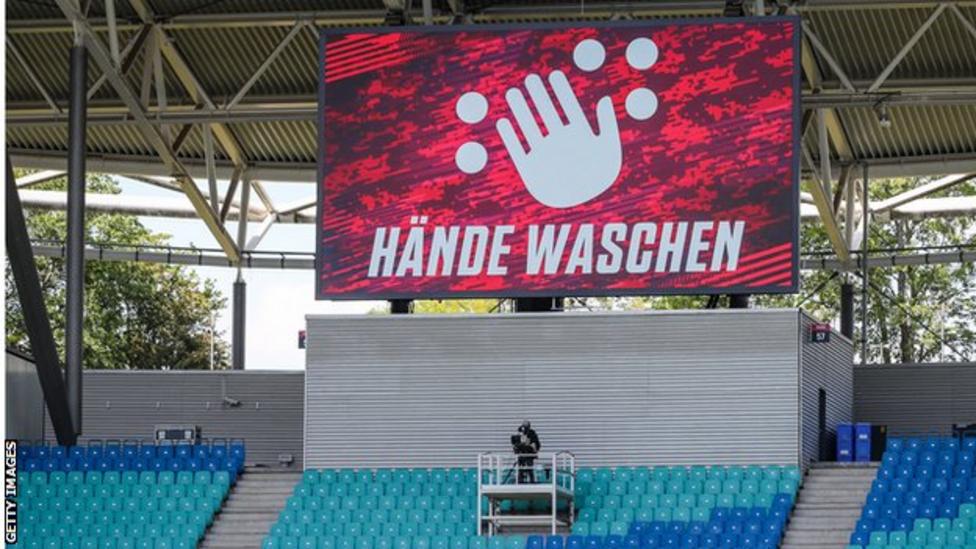 Teams arrived in several buses so players could socially distance on the journey to the game.
Players and staff had all been quarantining in team hotels all week and are being tested for coronavirus regularly.
As they left the buses they wore face masks on their way into the ground.
Other people attending the games, including the media, had their temperatures checked.
Fans were banned from matches, with police patrolling to make sure no crowds gathered at the venues. Only 213 people were allowed into the ground – 98 on and around the pitch (like players, coaches and ball boys) and 115 in the stands (such as security, medics and media).
Another 109 people (including security and VAR operators) were allowed just outside the stadium.
Footballs were disinfected by ball boys before the game and again at half-time.
Socially-distanced substitutes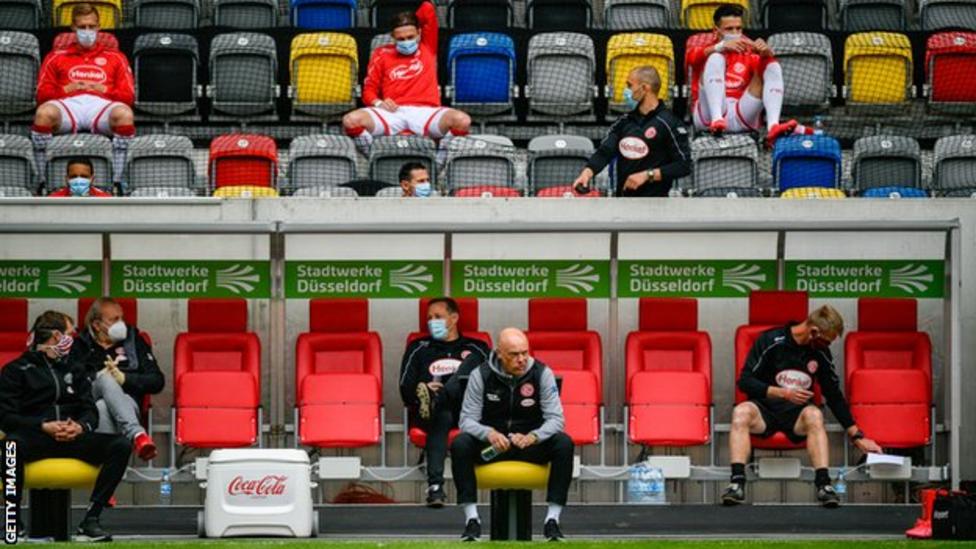 Substitutes and coaches wore masks and socially distanced on individual seats on the bench – or in some cases in the front rows of the empty stands behind the benches.
RB Leipzig, who drew with Freiburg 1-1, brought in a set of airport stairs so players could get to and from their seats in the stands.
Head coaches were allowed to go without a mask so they could shout instructions to their players.
Substitutes took off their masks to warm up, and when players were replaced they were handed a mask before reaching the bench.
Elbow bumps instead of hugs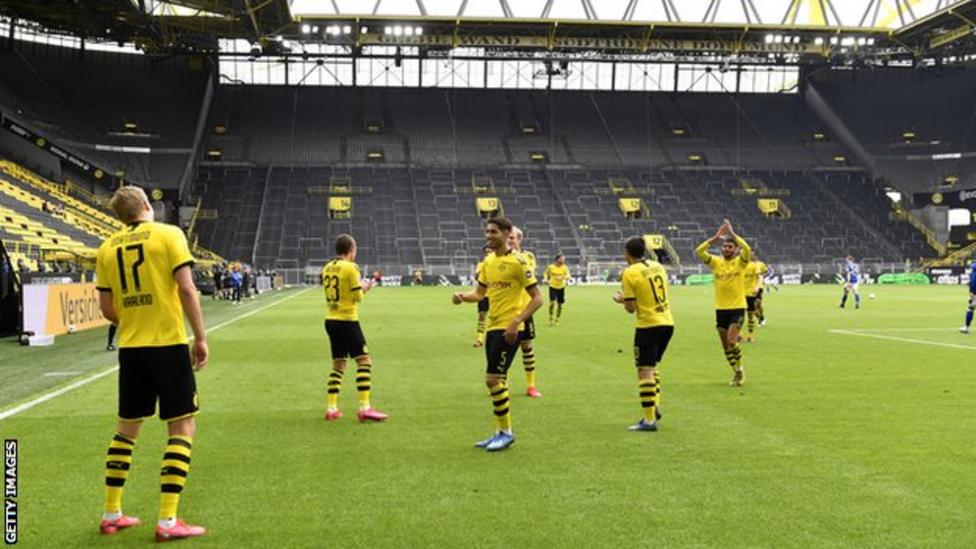 The actual play itself was no different to normal with tackles flying in and plenty of goals – 16 – across Saturday's six games.
But there was some social distancing on show for goals as many strikes were celebrated without the usual embraces, think elbow bumps instead of hugs.
However, some goals – notably those by Hertha Berlin players in their 3-0 win at Hoffenheim – were just celebrated as normal. Hertha will not be punished as the German league asking players not to embrace is a guideline and not a rule.
With only a few dozen people making noise on the benches, television viewers could hear the players and managers talking, as well as the sound of the ball being kicked – and of the ball hitting the back of the net.
Teams were allowed to use five substitutes in a game – which other leagues will have the option to do when they return. So Schalke, in their 4-0 defeat by Borussia Dortmund, were able to make two substitutions at half-time – and another three after the break.
Applauding empty stands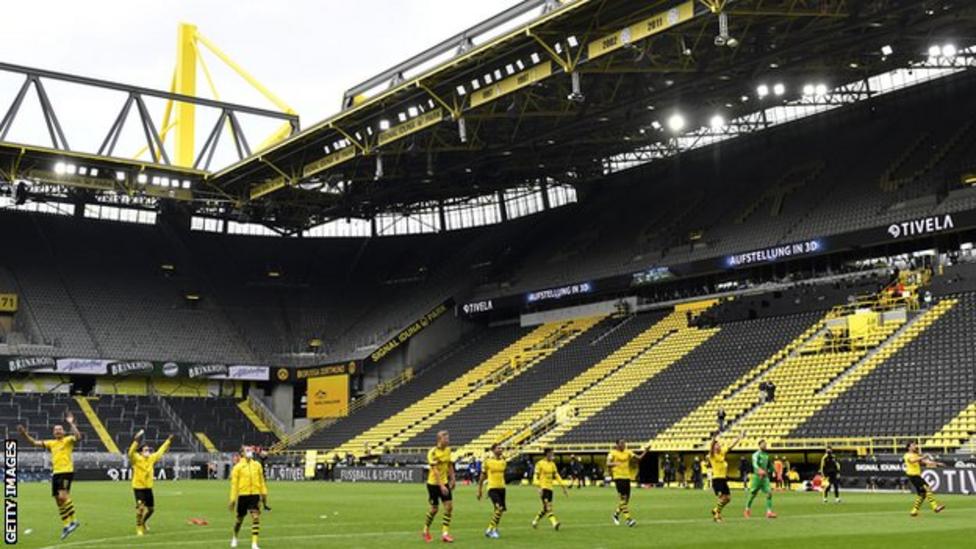 After the final whistle – to deafening silence – Borussia Dortmund's players went across to their famous South Bank – usually known as the Yellow Wall which holds 25,000 fans – to applaud and run towards the empty stand to celebrate.