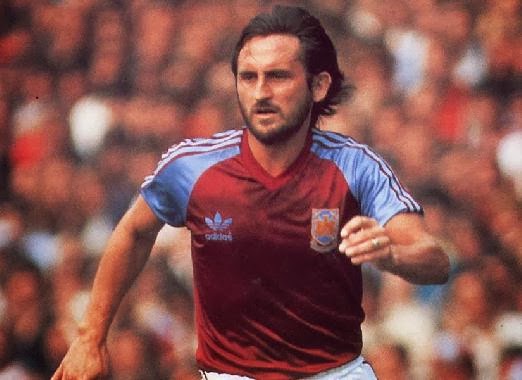 By Simon Leyland
Despite all the doom and gloom at West Ham at the moment let us take a moment to talk about something uplifting. For today 56 years ago, Frank Richard George Lampard wore the claret and blue for the first time.
At club level, he won two FA Cups in 1975 and 1980 and the old second division title in 1981. By the time he left the club , Lampard had played 660 games, scored 22 goals and become one of the most celebrated players to pull on a West Ham shirt. He wore the number 3.
He is probably best remembered for his goal against Everton  in the semi final of the FA Cup in 1980. After a draw at Villa Park the replay took place mid week at Elland Road.
Alan Devonshire opened the scoring and at the time it looked as if we were going to hang on in there to scrape a one-goal victory but then Bob Latchford popped up to score an equaliser for Everton.
What happened next has gone down in West Ham folklore. Brooking picked up a half-hearted Everton clearance out on the right. He caressed the ball as only Brooking could, into the eighteen yard box right on the head of David 'Psycho' Cross who in turn, nodded the ball towards the penalty spot into the path of Frank Lampard who uncharacteristically was in the opposition's area.
Lampard dived to head the ball, which beat the keeper and it trickled in off the post for the winner.
What happened next is the stuff of legends; Lampard ran out to the corner and did his famous jig round the corner post.
Thank you Frank…..Amazing memories !.