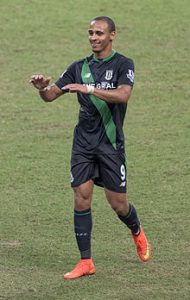 You may remember Peter Odemwingie.
He was the bloke  who launched a tirade against against his club West Brom on Twitter accusing them of "reaching into his pocket" before turning up outside QPR trying to force a move into Lofts Road.
He was moved on as no offer had been accepted by the Baggies who sent him home and was disciplined before finally apologising for his shocking behavior.
When he did return to the team he was  jeered by some Albion supporters and after again being  used as a sub once more slammed the club on Twitter before moving on with a career which was all downhill from there.
Not the best judge of how to behave or manoeuvre your way into the right move to be sure yet it's this same geezer Hammers fans can thank for helping the club to miss out on hot Nigerian prospect Henry Onyekuru.
The youngster has been explaining why ourselves and Arsenal missed out on his services declaring: "Before making the decision I seek some advice from Nigeria ex players like Osaze Odemwingie. I have some other clubs you know ready to offer more than what Everton did.
"But I begged with my agent I need to play inside the pitch and not just the financial aspect for my career I need a coach that will push me to make a good career for me, so I choose Everton because the coach really wants me and I am going to take a loan to Anderlecht, so it's good for my career.
Let's hope it works out a little better for him than it did his rather surprising choice of chief adviser.
COYI