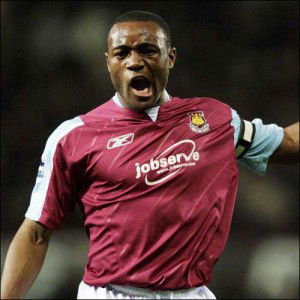 Former Hammer Nigel Reo-Coker has told BBC Radio 5 listeners that Mark Noble and James Collins need to help the Hammers' foreign players learn what it means to play for West Ham.
"They've got Mark Noble, they've got James Collins and they have both been at the club for a long period of time. They've got character there," Reo-Coker said.
"They need to get everyone to buy into the club in what it means to play for West Ham. That's a difficult thing. Sometimes you need a good foundation of solid British players. It is about them stepping up to the plate to get the foreign players to buy into it."
Reo-Coker moved to West Ham in 2004 for £500,000. He quickly became a regular member of Alan Pardew's first team and was made the club captain. In his first season West Ham made the 2004 Football League First Division Play-Off Final but lost 1–0 in Cardiff to Crystal Palace.
In his second season, West Ham returned to the Premier League, beating Preston North End 1-0 in the Play-Off final. In 2006, Reo-Coker captained West Ham to the FA cup final, losing on penalties to Liverpool.
Reo-Coker's last season with West  Ham was controversial. Reo-Coker was singled as the main culprit for West Ham's bad form, which left West Ham perilously close to the bottom three and ultimately led to the sacking of manager Alan Pardew. New manager Alan Curbishley identified Reo-Coker as being part of the team which had lost direction and was in danger of being relegated back to The Championship.
Despite regaining his place in the team, Reo-Coker joined Aston Villa in 2007 for a fee of £7.5 million. Upon his move to Villa, Reo-Coker stated he felt he had been 'hung out to dry' by West Ham at the time.