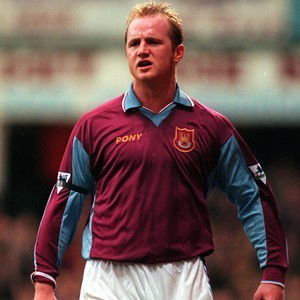 Former Hammers striker John Hartson has told how his one time massive gambling problem all but wrecked his marriage.
Hartson will be eternally grateful to Gambler Annonyous for freeing him of a habit which was destroying his life and should serve as a warning for those who enjoy a bet – it can lead to real trouble.
The big striker joined the Irons in 1997 remaining until '99.  In his first season, he scored five league goals from eleven games and was instrumental in helping West Ham rise from 18th  to 14th position.
The next season saw him finish, with 24 goals in 42 games in all competitions, as West Ham's top scorer
Writing in the Daily Mail he says: " It's when you start opening accounts with the betting firms that the roof starts falling in for people, like me, who are addicted gamblers. It's like Monopoly money then, because it's all on account. You're not holding the notes in your hand. You're not seeing it go.
I had accounts with seven or eight different companies in the end.  If one account runs down, you can use another. And the accounts mean you can hide what you're doing very well. You can place a bet while you're sitting down to dinner with your family or having a conversation with your wife.
In my case, that's Sarah — the woman who kept things on the road for us in the most challenging times you could imagine eight years ago. I'd been diagnosed with cancer and while I was in hospital, in and out of consciousness after major brain surgery, she was the rock of our little family.
She was pregnant, she looked after the children, she ran the household and then — despite everything she had done — I came out of hospital and carried on with the gambling. This was a man who earned millions. My wife couldn't pay the bills.
It was because of Sarah that I stopped in the end. She'd had enough of my walking in from trips, ignoring her and the girls, going straight to the TV and turning on a cricket match, golf tournament or horse race I had £5,000 on.
She made a decision to pack her bags and leave me. 'I won't put my girls through this,' she said. I remember those words like it was yesterday.
So the penny dropped then. I ended up at Gamblers Anonymous and it's saved me. I've found other ways to protect myself, too. I do football TV analysis work week-in, week-out, and every single penny goes into my wife's bank account.
It's six years this month since I last placed a bet and the effect of having kicked it makes me feel free and alive. We've just bought a beautiful piece of land south of Edinburgh, where we're creating a home. The children are settling into their new surroundings.
For more information go to www.gamblersanonymous.org.uk