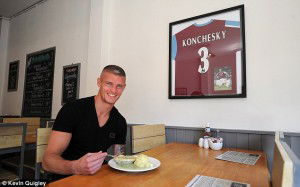 Former Hammer Paul Konchesky has opened his own pie-and-mash shop in Brentwood, Essex.
Konchesky talked mum Carol into running Konch's Kafe. She has worked in catering for 30 years and agreed to leave the Royal Oak in nearby Stapleford Abbotts to take control in her son's kitchen.
West Ham and pie and mash were two threads of East End culture embraced by the Konchesky family when Paul's grandfather settled in London after arriving from Poland during the Second World War.
In Konch's Kafe, Paul helps out making the tea and coffee. Adorning the walls are a West Ham No 3 shirt, once worn by the proprietor, a signed sketch of his boyhood hero Julian Dicks, a framed England shirt and a photograph of Konchesky in action with Teddy Sheringham. There are also a pair of boxing gloves signed by Nicky Cook, an old school friend from Dagenham who became a WBO featherweight champion. 'We'll put a few more things up,' said Konchesky.
The 34 year is currently playing for QPR but made 112 appearances for West Ham between 2005-2007 scoring two goals.