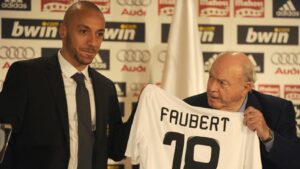 Former Hammer Julien Faubert has admitted he thought an approach from Real Madrid was 'bulls***' before he made his shock move from West Ham in January 2009.
The Frenchman made only two appearances and became infamous for apparently nodding off on the bench during a bizarre six-month loan spell at the Bernabeu.
But he insists he did not fall asleep during a clash against Villarreal as he opens up on his move to the biggest club in world football 11 years on.
'I received a call from this French guy at Real Madrid and he said to me, "Hi, I work for Real Madrid and we have to talk to you"', he told The Athletic.
'I told him I have an important game to prepare for and I don't have time for this bulls****. I switched off my phone, we played the game and after the match I switched on my phone and saw around 30 text messages and 50 voicemails. 
'That's when I knew it was serious.  I had many feelings but I was happy — it's Real Madrid, you know? When I realised it wasn't fake I was praying for the negotiations to go well.'
In July 2016 Faubert was signed by West Ham United for £6.1 million on a five-year contract. He suffered a ruptured achilles tendon during a pre-season friendly on 17 July against Czech side Sigma Olomouc, which was expected to take six months to recover. He finally made his first-team debut for the Hammers as a late substitute against Fulham at Boleyn Ground on 12 January 2008. His first season in English football was marked by continuing injury and he made only eight appearances in the league and FA Cup.
Faubert was given permission to speak to Real Madrid on 30 January 2009,  with the move being completed on 31 January when he signed on loan until the end of the 2008–09 season for a reported fee of £1.5 million with an option for Real to purchase him on a three-year contract for an undisclosed fee. Faubert made his Real Madrid debut on 7 February 2009 in a 1–0 win against Racing de Santander. His loan with Real Madrid was underwhelming.He missed training when he mistakenly thought he had the day off, and was pictured asleep on the bench during Real Madrid's match against Villarreal. His loan spell finished with only two appearances.
Faubert returned to the Hammers for the 2009-10 season and stayed for another three seasons, even helping them back into the Premier League after their 2011 relegation.