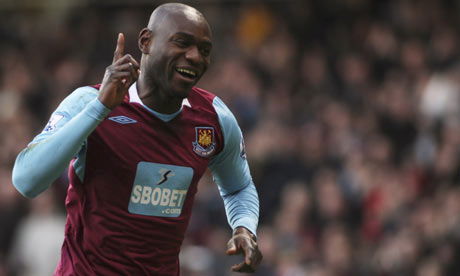 As you would expect we at ClaretandHugh  stays a long way from political discussion but given the extraordinary events occurring in the States,  as the election saga dominates the headlines, one story caught our eye.
Former Hammer Hertia Ilunga is clearly sick to death of it and sent American President Donald Trump a message which was, and no doubt will continue to be, ignored given how tight things are out there at the polls!.
Trump in one of his many hundreds of tweets claimed:  'Twitter is out of control, made possible through the government gift of Section 230!'
A little ironic perhaps given his use own use of that branch of social media.
Thirty eight year Illunga responded: "'You need rest, go to sleep!' 
The former left back was released by The Hammers after making a total of 73 appearances for the club in all competitions scoring three goals.
The defender had joined the Irons from French club Toulouse in 2009 on a transfer fee of £3.15m signing a four year contract.
He retired from professional in 2016 in the third tier of French football and now works from the Confederation of African Football (CAF) helping with training and development of players.