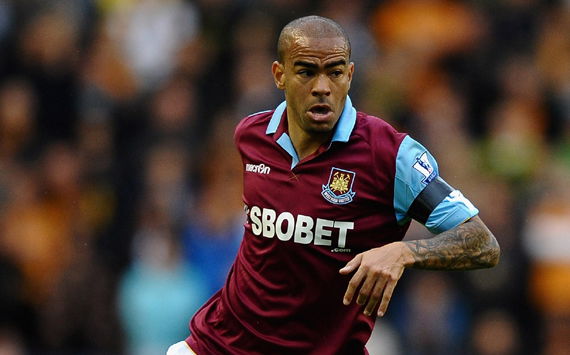 Former Hammer Kieron Dyer is to undergo a liver transplant after being diagnosed with primary sclerosing cholangitis.
The 42-yar-old U23 manager at Ipswich Town and underwent tests earlier this week in hospital.
Ipswich says Dyer, who also played for West Ham prior to retiring in 2013, has been managing problems with his liver for the past couple of years.
"Unfortunately, I was diagnosed with a condition of the liver a couple of years ago, that would lead to me one day needing a transplant," Dyer said in a statement released by Ipswich on Sunday.
"Over the next week, test results will confirm when I need to go through this procedure. I see myself as a very positive person that will overcome this minor setback. I'm very grateful to the club, the supporters and the general public for their messages of support over the past week.
"I would like to ask everyone now to respect my privacy, and my family's privacy."
Dyer suffered a collapsed lung while taking part in reality TV show Celebrity SAS: Who Dares Wins last month.
Dyer joined West Ham from Newcastle in August 2007 for £6 million, signing a four-year deal. He made his debut for West Ham in a 1–0 away win at Birmingham City on 18 August 2007 however, this was one of the few positives in Dyer's time at West Ham as he was thereafter blighted by injury. Just ten days after his debut, he was stretchered off after a tackle by Joe Jacobson in a League Cup match against Bristol Rovers that resulted in his right leg being broken in two places.
In January 2009, Dyer made his comeback for West Ham after 17 months out, coming on as a second-half substitute against Barnsley in the FA Cup third-round tie at the Boleyn Ground. Dyer's injuries continued in May 2009 when he was ruled out with a hamstring injury.
In 2010 David Sullivan expressed the club's frustration that Dyer, who was earning £60,000 per week, had only played 18 matches in three years. Dyer's hometown club Ipswich Town had expressed an interest in re-signing Dyer, but the move stalled amid reports Dyer had demanded a £1 million pay-off from West Ham; the media had also speculated about whether Dyer could actually pass a medical.
In May 2010, figures in The Daily Telegraph stated that Dyer, who had made only 22 appearances and had never played a full 90 minutes for West Ham, was the club's top earner on £83,000-a-week. His deal included £424,000-a-season for image rights and £100,000 in loyalty fees. Dyer was released by West Ham at the end of the 2010–11 season, after costing the club around £450,000 for every match he played in.