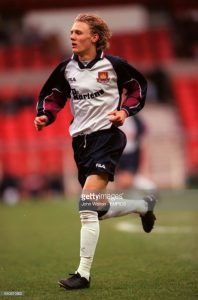 Former Hammer Jimmy Bullard is the latest former player to criticise  West Ham's signing of free agent Patrice Evra.  "Evra is an unbelievable name to have at the club, it's just five years too late,"said Bullard on his betting blog.
"He'll bring a bit of experience and leadership with him but for me, I'd rather see some youth and fresh legs in there. We've already got Zabaleta and Noble whose legs aren't getting any quicker. There's no way Guardiola would play full-backs without legs and then you've got West Ham with two hand-me-down full backs in Evra and Zabaleta, you're kidding me!   Legs have absolutely gone!"
Another former Hammer Craig Bellemy also questioned the wisdom of the signing saying:  "He hasn't been the same player in the past four or five years, his last year at Juventus was really poor, and he isn't the same player he was when he worked [under Moyes] four years ago.
"Age catches up with you, and he's in that position. It's a great move for him and his experience will be great for a club like West Ham, but I don't believe they're going to get much out of him playing-wise."