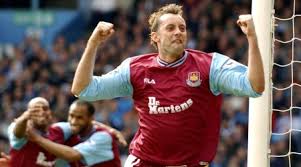 Former Hammer Don Hutchison has joined the Luis Suarez debate and declared: Let him play for no wages!
The former midfielder was no stranger to controversy during his Hammers career between 1994 and left in 1996 and suffered a  poor disciplinary record himself. He returned for a second spell in 2001.
He played 39 games in his first spell with the club, received eleven bookings and was sent-off once.
He became known to fans and fellow players as 'Budweisser', following a drunken incident in Ayia Napa.
But the 43-year-old – commenting on Suarez's problems – tweeted: "Pointless banning Suarez for years, it's not gonna fix the problem. Let him play with no wages and let docs try and rewire his brain,need help.
"Ban him for years and he'll prob walk away from the game. Kids bite at schools the don't get binned for years/they get help and reform."