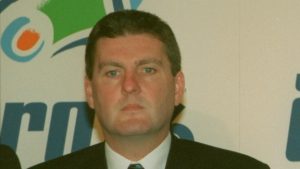 A former West Ham United club employee has been charged in relation to the Hillsborough disaster.
Graham Mackrell, who was working as club secretary and safety officer at Sheffield Wednesday at the time of the disaster, has been charged in relation to safety failures at the FA Cup semi-final between Liverpool and Nottingham Forest, which claimed the lives of 96 Liverpool fans in 1989.
On leaving Sheffield Wednesday he joined West Ham as club secretary in June 1999, taking over from Peter Storrie. He resigned just five months later after he accepted the blame for the club being forced to replay their Worthington Cup quarter-final against Aston Villa over the illegible playing of Manny Omoyinmi.
A spokeswoman for the Crown Prosecution Service said: "Graham Henry Mackrell, who was Sheffield Wednesday Football Club's company secretary and safety officer at the time, is charged with two offences of contravening a term of condition of a safety certificate contrary to the Safety of Sports Grounds Act 1975 and one offence of failing to take reasonable care for the health and safety of other persons who may have been affected by his acts or omissions at work under the Health and Safety at Work Act 1974. These offences relate to alleged failures to carry out his duties as required."