Former West Ham managing director Angus Kinnear has told Sky Sports that it is vital that the domestic leagues are finished this season.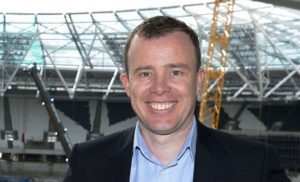 The Leeds CEO told Sky Sports "From our perspective, we think it is vital that it is completed,"
"I think there is a growing sense across the football family that that is the right thing to do. It is difficult to speculate on timelines and now is the time for patience and cool heads. I think for the integrity of the football pyramid and the financial security of the clubs, finishing the league is the right thing to do.
"There is obviously a danger that self-interest will play a part but I have actually been refreshed by the fact that most of the football family are looking at safety and health and well-being first.
"That is the main priority, I think if we focus on that, then try and maintain the integrity of the league by getting back to playing at some stage then that is probably the main priority."
The EX West Ham employee who worked for Karren Brady for four years obviously see eye to eye in her view that the season should be delcared null and void.