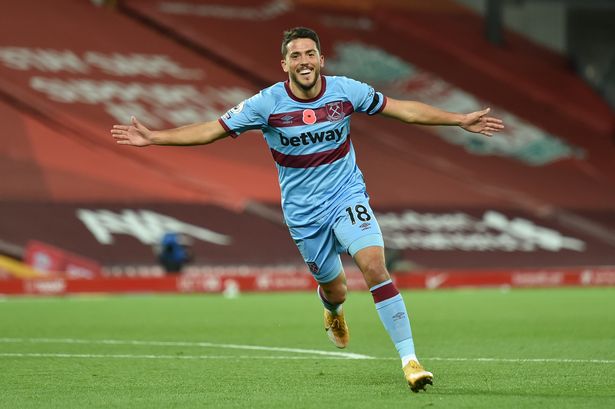 Jarrod Bowen continues to be the talk of the Hammers with  Pablo Fornals being the latest to join the chorus of praise for  the winger's achievements.
The Spaniard – now a new father – has returned to the squad after self isolation admitting he had no symptoms whatsoever.
He added that all he saw were two lines and that was it declaring that he couldn't understand the situation at all.
However, he understands perfectly just what a top player Jarrod is becoming and believes he deserves his England chance.
Such is the level of Jarod's performances that he may also be edging ahead of the rest in this season's Hammer of the Year race.
He's been in outstanding form and drawn plaudits from across the club with David Moyes saying he thinks he can become an even better player and should get a Three Lions call-up.
Pablo too is mightily impressed and told www.whufc.com: "Honestly, I've been talking about Jarrod about this situation.
I think he deserved this a long time ago and not just not because he's scoring twice or assisting twice in a game. He deserved it since the start of the season.
"He's been massive for us for the whole season, not just right now. Last season he played really well as well.
"Obviously I'm not the England coach but I think at least he deserves a chance to wear the Three Lions and play for his country."