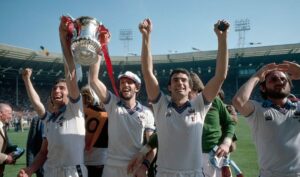 It seems strange to be celebrating our last FA Cup forty years ago today. It is a painful reminder that we haven't won anything of note for four decades.
We came close in 2006 in Cardiff but that was snatched away from us on penalties and there are no prizes for second place in the FA Cup. I'm not sure Arsenal who have won the FA Cup a record 13 times would be making a big deal out of today had they have won the game. The same would be true of Manchester United, Spurs,  Chelsea, Liverpool or Aston Villa who have won the cup seven times or more each.
The Hammers have won the FA Cup three times namely 1964, 1975 and 1980.
I hope we don't celebrate the fifth decade in ten years time as our last win in FA Cup competition.
Well done Sir Trevor Brooking on your goal forty years ago today and let's hope for new West Ham FA cup heroes in the years to come.
Come back at 3 pm for a Claret and Hugh watching party to watch the FA Cup game via Youtube to recreate the magic day on 10th May 1980