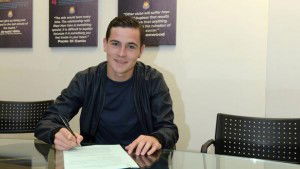 Josh Cullen looks like becoming a wanted man this summer once the transfer window finally opens.
The midfielder – who has been impressing at Charlton over the last couple of seasons – has signed a new one year deal with the Irons and it maybe that whether he stays or goes will depend on which league the club is playing in next season.
Josh has been on the brink of the Hammers squad for three seasons and former boss Manuel Pellegrini was close to naming him as part f it before his departure only changing his mind on deadline day when the 24 year old was allowed to return to Charlton.
Some have seen him as a long term replacement for Mark Noble but in only signing a one year deal at the London Stadium the academy product is clearly keeping all his options open.
And should David Moyes decide against keeping him there will almost certainly be a four way battle for the player with Leeds, Bournemouth, Norwich and West Brom are all reported interested in the Republic of Ireland international .